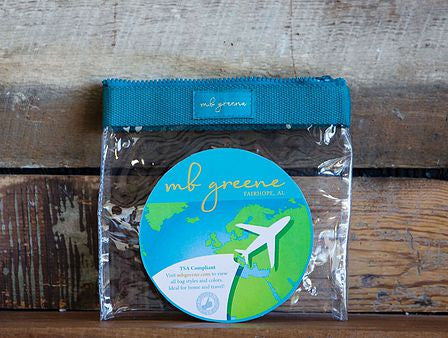 MB Greene Airline Zip Top Bag
$10.00
Ditch your typical zip lock baggy for this monogrammed plastic travel bag! This bag is TSA compliant and is prefect for carrying your liquids! With a zipper top and a plastic lining, this bag makes it easy to keep your liquids organized and clean. Add your name or monogram to the side of this plastic bag and reuse it over and over again! 
This environmentally friendly bag is $10.00 plain and $16.00 monogrammed. 
7.5" L x 8" W 
Complete your purchase with other MB Greene bags like the canvas tote or monogrammed makeup bag!
Custom Embellishments Available: Call (972) 763-1717 for Pricing and Ordering