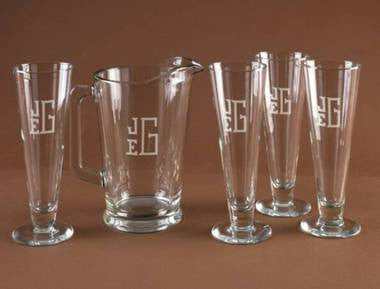 Glass Classic Pilsner Beer Set
$64.00
This Pilsner Set makes a great gift for any occasion! Pick your favorite monogram or font to create beautiful etched glasses that are unique to your style and taste. You can also add your logo and give them as gifts to employees and clients!
5 Piece Classic Pilsner Set Includes: 4 Etched Pilsner Glasses & One Etched Beer Pitcher
You will be contacted to confirm initials and font once your order is placed.
For questions regarding this product or the monogramming process, please contact our embroidery shop in Dallas at 972-763-1717 or email info@legacymonograms.com
Need a gift for a wine lover? Check out these beautiful etched wine glasses!
Custom Embellishments Available: Call (972) 763-1717 for Pricing and Ordering